This element will add a section to your quiz.
Sections are used to help you organize your quiz.  They are also especially useful if you want to have some parts of your quiz with mandatory questions and some parts with questions randomly selected from a larger pool.  You can also use sections if you want to time limit a particular question but not the whole quiz.
When you select Section a new section icon will appear on the quiz tree.  If you right click on the icon a drop down box will appear: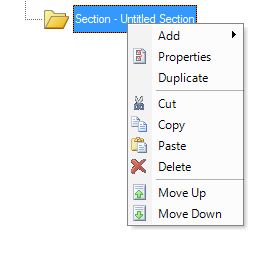 You can select Properties and a new window will appear where you can add a title, set a time limit for completion of the section and configure the randomization settings.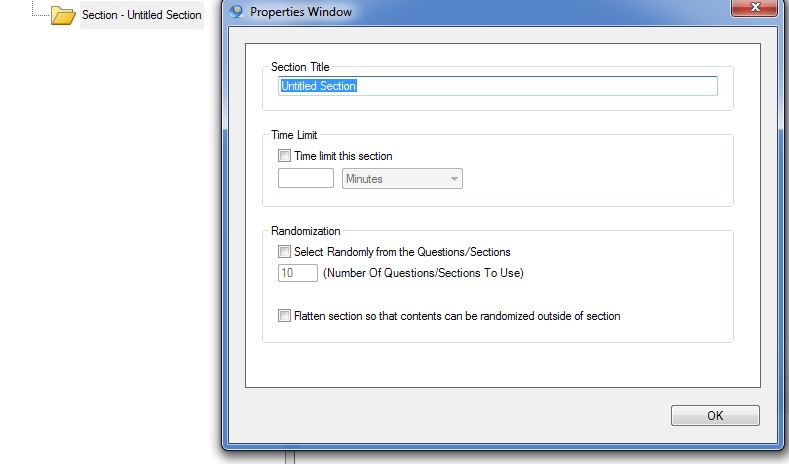 You can read some more about creating a quiz with random questions here.
You can Add questions or elements to your section: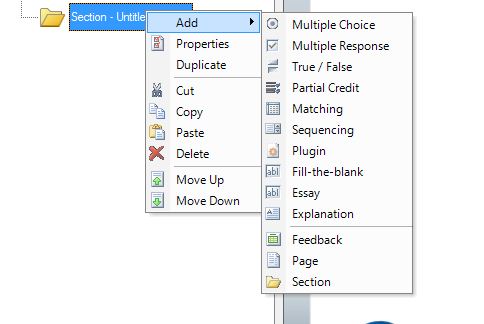 So you can nest sections within sections, and create pages and feedback within sections.
You can also drag and drop questions, pages or other sections from elsewhere in your quiz or from another open quiz.
Finally you can Cut, Copy and Paste your section, Delete it, or simply Move it Up and Down to change it's position in the quiz.
You can read some more about randomization and sections here.