Activating your licensed copy of Question Writer HTML5 is simple.
When you open Question Writer HTML5 a window pops up with your options: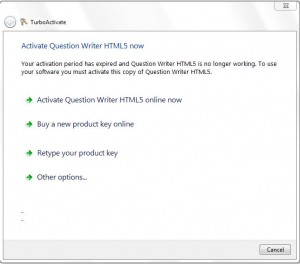 To activate your license online simply click on the first option Activate Question Writer HTML5 online now.
A new window will open asking you to enter the 28 digit product key that was emailed to you when you purchased your license.
You can just copy and paste the product key from the email we sent you and then click Next at the bottom right of the window.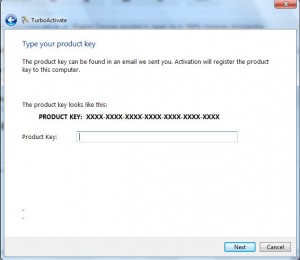 You will have to wait a few seconds while your product key is verified online but you should get a message that your activation was successful.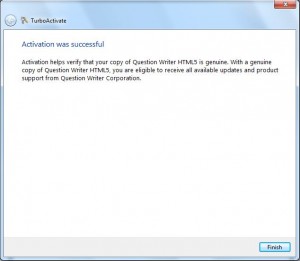 When you click on the Finish button at the bottom right of the window Question Writer HTML5 will open.
If you enter an incorrect product key a message window will open asking you to try again.  Just click on OK and try typing the product key in again.
If you are sure you are entering the correct product key and cannot activate your license please contact us at support@questionwriter.com.