Follow these steps if you are not using Question Writer HTML5 online and want to activate your license.
When you open Question Writer HTML5 a window pops up with your options: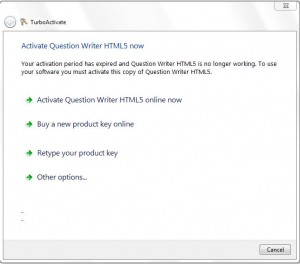 Click on Other options…. and then select Manually activate Question Writer HTML5 offline.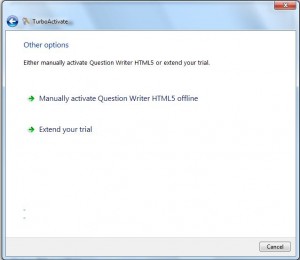 You can now enter the product key that was sent to you by email when you purchased Question Writer HTML5 and click Next at the bottom right of the window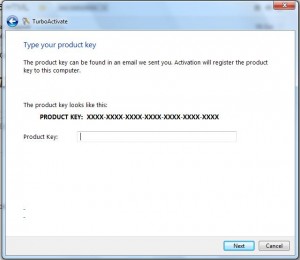 In order to activate Question Writer HTML5 you will need to send us an Activation Request file.
Click on Save the Activation Request File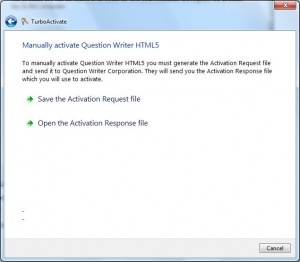 A new window will open asking you to save the file.  Save it somewhere that you will easily find it again, eg to your desktop.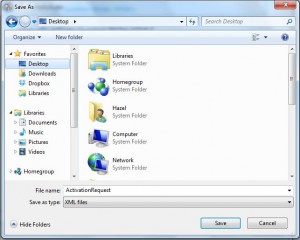 A new window will open telling you that the file has been saved and is ready to send to Question Writer.

Click on OK and then send us an email to support@questionwriter.com with the Activation Response file attached.
We will send you an email with an xml file called Activation Response.  Download and save the attached file – you can open it but you do not need to.
Open Question Writer HTML5 and click on Other Options and then Manually Activate Question Writer HTML5 Offline.  This time you will go straight to this window: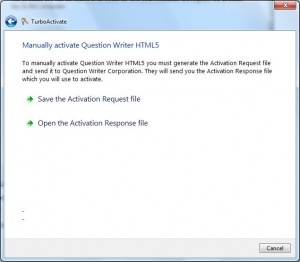 This time select the second option Open the Activation Response file.   A browser will open allowing you to select your the file that you have just downloaded and saved. When you open the file you will see this message: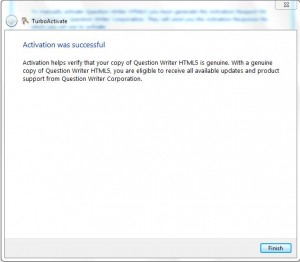 Your Question Writer HTML5 has been activated and you can just click on the Finish button on the bottom right of the window.  You will now be able to open Question Writer HTML5  and start to create a quizzes.