Question Writer HTML5 has two main menus
Start Up
Quiz
Start Up Menu
When you first open Question Writer HTML5 you will see this:

Of the five items on the menu bar, Language and Licensing will not be visible once you start or open a quiz.
Quiz Menu
As soon as you start a New Quiz or Open Quiz a new menu will appear containing the additional buttons and file options that you need to create your quiz.: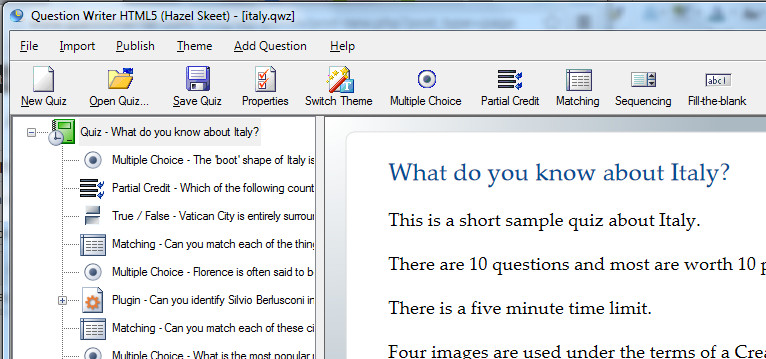 As you can see this menu has 6 menu items:
In addition to the menu bar there are icons which can be clicked for the basic file operations (New, Open and Save), the most common Question types (Multiple Choice, Partial Credit, Matching, Sequencing and Fill-in-the-Blank) and to Switch Themes.  There is also an icon to open the important Quiz Properties window.  This can also be opened by moving your mouse over the green quiz icon and right clicking and then selecting Properties.